Home Trends For Fall
Sep 24, 2018, 15:28 PM
As Ottawa's Fall Home Show gets closer and closer, it's time to keep your eyes open for the newest fall trends this year! From rich colour palettes to artisanal fixtures, this season is all about bold statements.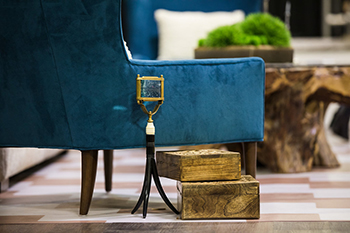 Contrast is Key
When it comes to colours, you should be incorporating into your home this season, don't shy away from contrast. Though fall classics like reds and yellows are great colours to bring warmth into the home, this season navy and amber hues are adding that much needed coziness while also keeping your rooms incredibly sophisticated. Try incorporating the two colours together, as the contrast compliments each other perfectly. If navy and amber aren't quite for you, you can accomplish this contrasted look by placing brightly coloured accessories against dark backdrops. For this, we love jewel-toned throw pillows on a darker couch. Whichever colours you choose, embrace the high contrasts!
Embrace the Bold
In the spirit of embracing the bold, why not bring a new pattern into the mix? Bold patterns are a fun and simple way to breathe new life into any room. Not only do we love bold patterns on pillows or curtains, but this season we suggest considering going a bit bigger - Patterned wallpaper is a simple way to quickly refresh a room. Reupholstering a much-loved furniture piece with a trendy, punchy pattern is another way to go to keep get that updated look on a budget.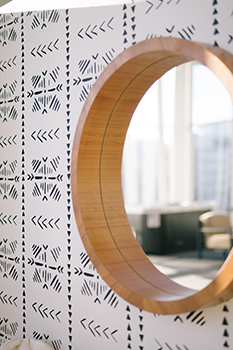 Opposites Attract
This fall change up your rooms by finding pieces that are starkly different but when placed all together, create an intriguing cohesiveness. To accomplish this theme, look for pieces that share a common element - This could be a similar colour theme that unifies some eclectic pieces, both new and old. By keeping a careful eye out for pieces that are similar while also seemingly contrasting, you can build an incredibly eye-catching space.
Shop Local
More and more people are now prioritizing artisanal and locally-sourced pieces in their home. By searching for furniture and décor in smaller shops based in your local area, you can find truly unique items to bring into your home and support local businesses and artists at the same time. Items that are great to keep in mind for this endeavor are light fixtures, pottery and artwork. If you're looking for artisanal pieces on a budget, check out your local flea markets or farmer's markets. A little time and energy spent sifting through vendors' treasures can land you the perfect piece to compliment any room in your home.
For more fall home inspiration visit us at the Ottawa Fall Home Show, September 27th to 30th. Buy your tickets today!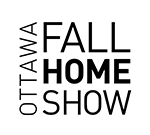 EY CENTRE
SEPTEMBER 27-30, 2018